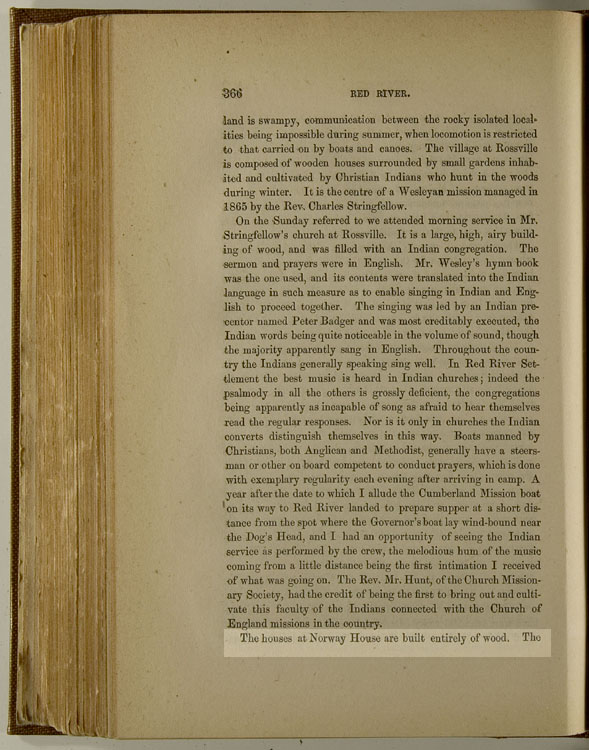 | | |
| --- | --- |
| Author: | Joseph James Hargrave |
| Title: | Red River |
| Publisher: | John Lovell, Montréal |
| Year Published: | 1871, First Printing |
| Copyright Holder: | Expired; please credit publisher as John Lovell. |


Joseph James Hargrave (1841-1894) was the eldest son of HBC Chief Trader James Hargrave and his wife Letitia. Educated in Scotland, Joseph James returned to Rupert's Land in 1861 as an apprentice clerk in the HBC, and served as secretary to his uncle, William MacTavish, Governor of Assiniboia and of Rupert's Land. In 1869, he began writing weekly articles for the Montreal Herald about the Northwest and the anticipated transfer of Rupert's Land to Canada.

His 1871 book, Red River, is regarded as the best history of Red River written in the 19th century. It is both a history and personal observation of the economic, social, political and religious life of Red River, and argues that the settlement and its institutions owed their existence to the vitality of the fur trade.

This is a description of Norway House to which J.J. travelled in 1865 with his uncle, Governor William MacTavish, though he doesn't mention the fact. p366-67, 2nd pgh which begins with the last line on page 366:"The houses at... with regularity."

"The houses at Norway House are built entirely of wood. The establishment, which is one of the most extensive in the Department of which it is the depot for the Inland districts, stands on an elevated rocky promontory and is enclosed by a picketted fence.

A large garden within the precincts of the Fort and several fields on the neighbouring islands produce vegetables of various kinds in great perfection. Melons and cucumbers, under the care of a gentleman in charge who understands and interests himself in such matters, flourish in their hot beds, while lettuces, potatoes and other vegetables come to maturity with regularity."




Other Related Material


Read more excerpts from Red River - enter 'Hargrave' in the search box to your left.

Learn more about Norway House - enter 'Norway House' in the search box to your left.

What does Joseph James Hargrave look like?

Check the Beaver Index - e.g., gardening, Norway House, Governor William MacTavish, etc.