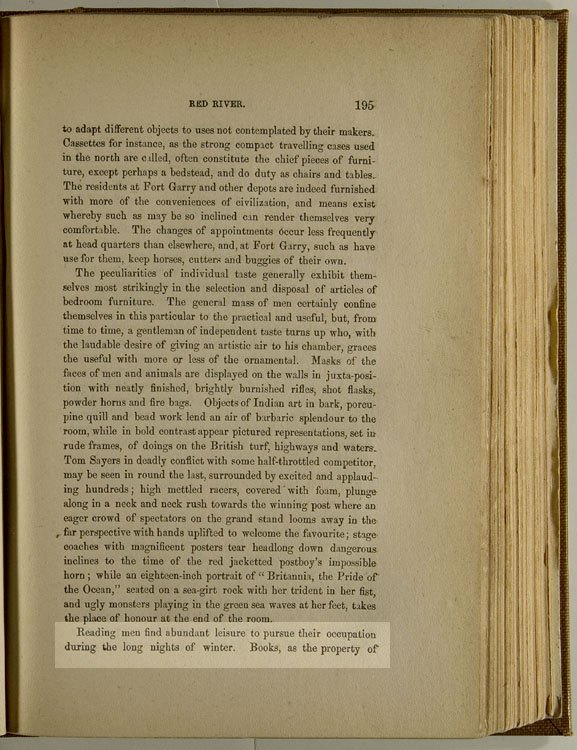 | | |
| --- | --- |
| Author: | Joseph James Hargrave |
| Title: | Red River |
| Publisher: | John Lovell, Montréal |
| Year Published: | 1871, First Printing |
| Copyright Holder: | Expired; please credit publisher as John Lovell. |


Joseph James Hargrave (1841-1894) was the eldest son of HBC Chief Trader James Hargrave and his wife Letitia. Educated in Scotland, Joseph James returned to Rupert's Land in 1861 as an apprentice clerk in the HBC, and served as secretary to his uncle, William MacTavish, Governor of Assiniboia and of Rupert's Land. In 1869, he began writing weekly articles for the Montreal Herald about the Northwest and the anticipated transfer of Rupert's Land to Canada.

His 1871 book, Red River, is regarded as the best history of Red River written in the 19th century. It is both a history and personal observation of the economic, social, political and religious life of Red River, and argues that the settlement and its institutions owed their existence to the vitality of the fur trade.

This is his description of leisure activities, especially during winter. p195-96, 2nd pgh:"Reading men... outside of the fort."

"Reading men find abundant leisure to pursue their occupation during the long nights of winter. Books, as the property of private individuals, from the difficulty involved in transporting them, are more scarce than might be expected. Large libraries, however, for the use of the officers and servants of the Company, exist at various stations in the north.

Parties not studiously inclined often pass their spare time in exercising their skill on one of the musical instruments. Of these the violin, on account probably of its portable nature, is most ordinarily selected, and the votary after a series of years passed in sedulous practice, usually attains a certain ghastly facility of execution. Some are admitted to play well, but the style of music aimed at is not a high one.

In Red River Settlement the performance of a monotonous jig is one of the most admired feats of musical art, and the performer usually while playing, beats time with his feet so vigorously as to render himself a very disagreeable neighbour overhead. Two storey houses are, however, not numerous outside of the forts."




Other Related Material


Read more excerpts from Red River - enter 'Hargrave' in the search box to your left.

Learn more about music - enter 'music' in the search box to your left.

What does Joseph James Hargrave look like?

Check the Beaver Index - e.g., winter, recreation, music, etc.




Did You Know?


The Red River Settlement may have had its own reference library as early as 1816. The first permanent lending or subscription library was established at Fort Vancouver in 1834 or 1835 by Dr. William Tolmie.

Similar circulating libraries were established at Fort Simpson (in the Mackenzie River District) in the 1840s; at York Factory and Moose Factory in the 1850s; and at Norway House in 1870. Some fur traders had their own private libraries, and Joseph James' father, James Hargrave, frequently bought and sold books on behalf of his friends throughout Rupert's Land.