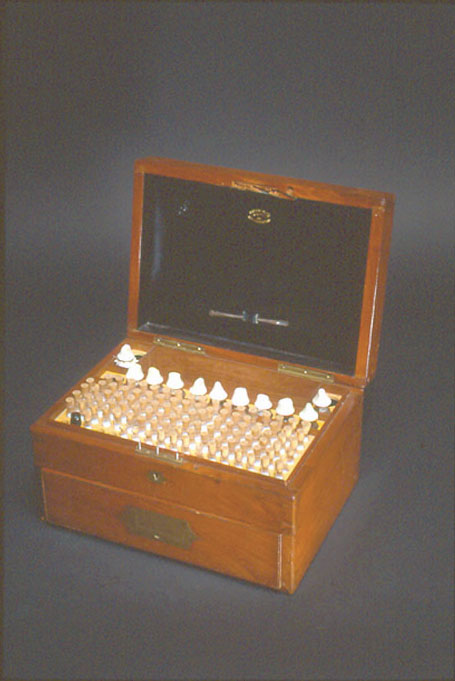 | | |
| --- | --- |
| Creator: | James Leath, manufacturer, London |
| Year made: | 1856 |
| Dimensions: | 34.2 cm long; 24.4 cm wide; 18.9 cm high |
| Location: | The Manitoba Museum; Artifact HBC 49-4 |
| Copyright Holder: | The Manitoba Museum |


Homeopathic medicine chest of polished mahogany wood. The chest contains 103 small glass vials of pills, 11 bottles of tinctures, several syringes, an awl, a metal counter and a book entitled "Homoeopathic Domestic Medicine" written by Joseph Laurie, M.D., published May, 1856.

Laurie graduated from the Homeopathic Medical College of Pennsylvania and was licensed by the Royal College of Surgeons in Edinburgh, Scotland.




Other Related Material


Learn more about women or medical care - enter 'women,' 'health' or 'medicine' in the search box to your left.

Check the Beaver Index - e.g., type in 'women,' 'Red River,' 'medicine,' etc.

Visit the community where the school once resided. Parks Canada maintains the St. Andrew's Rectory.




Did You Know?


Homeopathic medicinal treatments originated in Germany in the late 18th century and were used throughout Europe, including England.

Treatments are based on the theory that the systems of an ailment can be cured if the patient is administered a remedy that produces the same symptoms in a healthy person. For example, a low dosage of quinine may be used to treat a fever. This same drug, given at a higher toxic level, will normally cause a rise in temperature and a fever in a healthy adult.

This medicine chest was owned by Matilda Davis who ran a boarding and day school for young girls in St. Andrew's in the Red River Settlement just north of Winnipeg. The large stone building that housed the school and dormitory was erected about 1858 and received support from the Hudson's Bay Company.

Matilda was the daughter of John Davis, an officer of the Company at York Factory. Her brother George was employed at Lower Fort Garry. Matilda, like many children of Hudson's Bay Company officers, had been sent to England to receive her schooling.