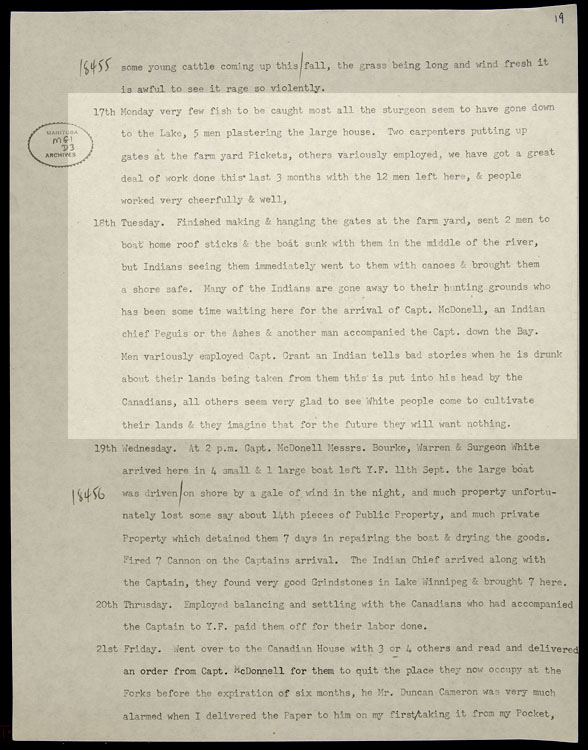 | | |
| --- | --- |
| Author: | Peter Fidler |
| Title: | Journal of Red River Settlement 1814-1815 |
| Location: | Original: HBCA - Archives of Manitoba, MG1-D3-file-2-p19, October 17 & 18, 1814 |
| Copyright Holder: | Expired; no restrictions on use. Please credit HBCA - Archives of Manitoba. |


Peter Fidler (1769-1822) joined the HBC as a labourer in 1788, but was almost immediately promoted to clerk. He later learned surveying techniques, and became an important explorer and map-maker; between 1812 and 1817, however, he was very active in the new Red River Settlement.

His journal entries for 17 and 18 October, 1814, describe daily activities of the men and mention the anti-European sentiment of some of the aboriginals. p19.

"17th Monday very few fish to be caught most all the sturgeon seem to have gone down to the Lake, 5 men plastering the large house. Two carpenters putting up gates at the farm yard Pickets, others variously employed, we have got a great deal of work done this last 3 months with the 12 men left here, and people worked very cheerfully and well,

18th Tuesday. Finished making and hanging the gates at the farm yard, sent 2 men to boat home roof sticks and the boat sunk with them in the middle of the river, but Indians seeing them immediately went to them with canoes and brought them a shore safe.

Many of the Indians are gone away to their hunting grounds, who has been some time waiting here for the arrival of Captain McDonell, an Indian chief Peguis or the Ashes, and another man accompanied the Captain down the Bay. Men variously employed.

Captain Grant, an Indian, tells bad stories when he is drunk about their lands being taken from them. This is put into his head by the Canadians. All others seem very glad to see White people come to cultivate their lands and they imagine that for the future they will want nothing."




Other Related Material


What does Cuthbert Grant look like?

Check the Beaver Index - e.g., Fidler, Grant, Chief Peguis, Miles Macdonnell, etc.

Who was this 'Grant' to whom Fidler refers?






Did You Know?




Fish were a very important part of fur traders' diet, and at many posts, fish was regularly eaten for breakfast.